About a two hour drive from southern Dutchess and Putnam Counties, you'll find a flagship store for Yankee Candle, the largest candle retailer in the world.  We went this past weekend and the store had a great deal more to offer than I had anticipated.  This store in Western Massachusetts, draws two million visitors per year, and clearly, there is something very charming about it.  The store is extremely family-friendly, and they often host events catering to children.  In March, they are hosting a Lego-building contest and the Peeps candy mobile, the details are at the end of this blog. First of all, the drive to get to South Deerfield is beautiful, it runs past a  long winding river. I highly recommend getting off the highway early and taking your GPS local route, so you can see what I mean.  This time of year, the trees were covered in snow, yet the river is still an impressive sight; I can imagine in fall this has to be an even more beautiful drive.  It felt relaxing just to take in the countryside of this out of the way part of Massachusetts.  If you're driving back from Boston, this stop would take you an hour out of the way, but I think it'd be a fun detour.
 In recent years, Deerfield has been trying to draw more tourists, as a day drive destination, so they are very open to visitors.  If you have time swing by Historic Deerfield, this is essentially an outdoor Americana museum with 11 historic homes, in an 18th century villlage in the Connecticut River Valley of Masschusetts.  The museum calls it, "a celebration of New England heritage", and they are very proud of the fact that this village is the real thing.  Here, you have the chance to tour authentic homes that were restored, and experience parts of daily colonial life, such as metal working, textiles, ceramics, furniture and crafts.   A visit here in warmer months, is a great way for kids to get an insight into life in colonial America, as their offer different workshops and interactive experiences.  In winter months, the museum has been hosting Open Hearth cooking classes on Saturdays, using old cookbooks and Colonial cooking techinques.
When you arrive at Yankee Candle, there is a wraparound porch with rocking chairs and a beautifully landscaped outdoor picnic area, which in the warmer months I am sure would be super fun.  The entrance looks like an old country store; you are immediately greeted by friendly employees and displays with the scents of the month. The store has plenty of brickabrack and pretty decorations like a beach bicycle and an antique car kids can sit in. There are huge displays for each new scent, and they do not skimp on space for each candle, so you can literally find any type of candle your heart desires.  The cool thing about this, is that if you like aromatherapy, you can really spend a lot of time comparing scents, since there are literally 400,000 candles in over 200 scents.
Their new scent, called Catching Rays is my absolute favorite and it smells like a turquoise rain shower on a spring meadow.  Many of the candles in their new line have smells of the ocean, like Fiji Beach and Sand and Sun; I especially love that they have natural essential oils and burn longer than any other candles I've bought before. You'll have a hard time finding just one scent you like, you'll probably end up with 10 and need to narrow down. There really is something about scent that triggers memories, and relaxes you, so if you enjoy that type of thing, you will be in scent heaven.  There are certain scents, like Vermont Maple that are only available in the flagship stores, and I must say it really smelled like a woodsy, sweet maple syrup.
Once you navigate past the first candle room, there is a second room with candles, if you can believe that!   The kids favorite section is a part called, WaxWorks.  Here you have the option to dip a candle in wax, make your own Yankee candle from various scents, or dip your hand in wax.  Our daughter, Lilliana made a  rainbow candle with several different layers, and the employees were very friendly and helpful.  We've been burning it in the past few days and it smells wonderful because every time we light it, it has a different scent.  Amada, on the other hand, choose to dip her hand in wax.  There is a station where you can dip your hand in parafin wax, and then a colored wax to make a molded sculpture.  She chose to do a peace sign, and used it as a decoration in her room.  The girls really enjoyed the interactive aspect of the store and it was very memorable for them.
While the girls were doing their activity with Adam, I walked around with the baby.  There are several rooms dedicated to different interests.  There is a kitchen room with cooking products and country store type items like dip, pancake mix and jams.  I then found the cafe and had a snack with Emma who was screaming for food :).  Luckily, the store has a cutely decorated cafe right in the store, with an array lunch type food, like soups and sandwiches and there is a large cute sitting area in the middle of the store.  If you are a bit hungrier, there is a restaurant called Chandler's on the grounds that serves New England cuisine and wine.
Another aspect of Yankee Candle that is a bit bizarre and endearing at the same time, is the all-year round Bavarian Christmas village.  This section of the store has enormous Christmas trees and Christmas villages.  Imagine a Bavarian village in the middle of Massachusetts; it pretty much it makes you feel the holiday spirit, even if it is nowhere near December.   The displays are full of ornaments and nutcrackers; and if you collect those tiny Christmas houses, this is the place for you.  My cousin has a big collection of these houses, so I could not resist buying her one, because the displays were so beautifully arranged.  And to top it off, it snows every 4 minutes.  Emma, our one year old really loved that aspect. There is also a year-round Santa Claus with a letter writing station, yes you read that correctly, year round.  I am imagining if your kids need to pick a bone with Santa, this would be the place to take them.  Santa actually seemed super friendly, but to not have a very confusing conversation with Lilliana about why Santa was there, we skipped it.  Maybe in the pre-holiday time, this would be an amazing place to visit him.  I will not miss Yankee Candle next year in November and December time frame, especially to stock up on gifts.
Once you get through the maze of the Christmas village, there is a toy and candy section.  There is a great array of toys to play with, and if you like popcorn, caramel apples, fudge and ice cream the store has a small kiosk for each.  We bought some zebra popcorn, and the prices were actually very reasonable.  The employees once again impressed me as they were so patient and understanding with the kids while they made their choice between a candy apple or the many different flavors of popcorn; as a mom I really appreciate little things like that.
Perhaps my favorite section of the store, where you can usually find the most people, is the discount room.  It has a huge selection of discontinued or seasonal candles at 50% and even some at 75% off.  Sometimes, they run special deals, so I was able to get a Valentine's day scent for $7.  At the end, I think I went home with 8 candles, so be prepared to have  space for candles and give some to friends and family.
I think the best part of this drive is that it is really relaxing and it can be as long or short as you prefer.  There is a candle-making museum that we missed, so we will definitely be back to see that, it explains the art of candle-making and some of the history behind it.
Logistics:
Yankee Candle® Village South Deerfield, MA.
Address: 25 Greenfield Road South Deerfield, MA 01373
Website: http://www.yankeecandle.com/about-us/visit-our-village-stores
Hours: Monday - Sunday from 10:00 am - 6:00 pm.
Closed Thanksgiving & Christmas 
For More Info on Deerfield, see http://www.deerfieldattractions.com/
Yankee Candle Upcoming events

PEEPS® Day Date: Saturday, March 5 Time: 10:00 am - 1:00 pm
Activities include:
Visit with the The Peepsmobile and PEEPS® Chick Mascot. FREE PEEPS & Company giveaways! (while supplies last)
Receive a PEEPS Scratch Off with any purchase between 10am-1pm.  One lucky guest will win a $100 gift basket of Yankee Candle® Easter products. Lots of other prizes!
FREE* first 50 guests make their own PEEPS® treat with Santa and Mrs. Claus (while supplies last)
Watch an ice carver make a very cool PEEPS® chick!
$5 Easter Illumalid with any Easter Candle purchase
Guess the number of jelly beans in the jar for a chance to win a Wax Works package! (Includes MYO Jar, Wax Hand, Dip Your Own Critter)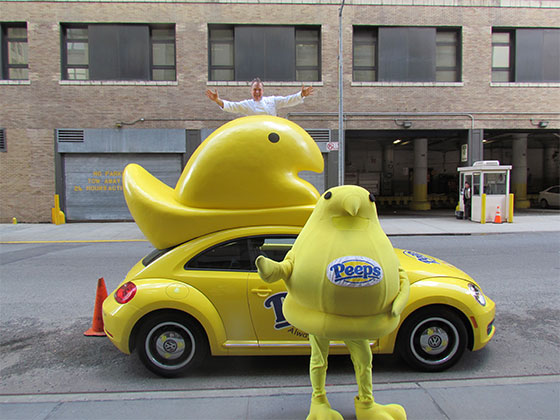 Builders Day Date: Saturday, March 19 Time: 10:00 am - 1:00 pm
Activities include:
FREE LEGO® Set to build and take home! (while supplies last)
LEGO® Traveling Exhibit: Check out the amazing models by the New England LEGO® Users Group!
Building Contest & Exhibit: Enter your creation of LEGO® bricks (built at home) for a chance to win a Family Fun Day* at Yankee Candle Village. All participants receive a FREE 4" dip-your-own taper candle.
* Family Fun Day Package for 4 includes Wax Works Package, Ben & Jerry's kids cones, and a fill-your-own Yankee Candy Jar. Entries for the building contest and exhibit accepted from 10am until 12pm. Judging will be done by a special guest -  winners will be announced at 1pm. Submissions must be picked up after the judging at 1pm. Yankee Candle Village is not responsible for lost or damaged models.